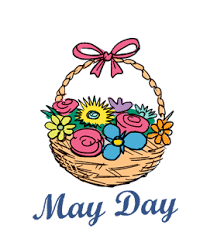 4-29-22
Good morning everyone and HAPPY MAY DAY (Well, almost…)
We are certainly keeping things interesting with these weekly updates. Last week, it was almost tomorrow before I posted anything and this week, back to normal. I appreciate those who are following the updates both here and on our Facebook page.
On the topic of May Day, I did some reading to learn a bit about the history. Oddly enough, I think I am more confused by the varying history of this day, when it is celebrated, by whom and why. As a result, I will leave the research to someone else. But…Happy MAY DAY!
This week, Hamilton County remains in the yellow zone on the CDC positivity map. While we have not seen cases here at Westfield, and we are told that cases in Aurora are down at the hospital and clinic, there must be something causing this rate to remain in the yellow. So, as you already are aware, we continue to test all non-up-to-date employees twice a week. We have had no positive tests, which is truly a blessing.
You may have noticed that our Memorial Service was posted on Facebook Live this week and I hope that many of you were able to connect and participate in that. This is a great opportunity for staff and residents, alike, to remember those residents who we have lost in the past several weeks. It offers remembrance but also closure as many of our staff and residents are unable to attend the individual funeral services celebrating the lives of those lost. For anyone who missed it, Pastor Andrew of St. Croix Hospice officiates that service for us and he does an incredible job. Pastor Andrew takes time from his schedule, which is quite busy traveling many miles each day, to help us and we are so grateful! Thank you, Pastor Andrew!
On Tuesday and Wednesday of this week, I have the pleasure of attending the Nebraska Healthcare Association's Spring Convention in Kearney, NE. Like many of you, in your professions and groups, gatherings like this have been incredibly limited, if held at all, over the past two years. We were fortunate to be able to meet, in-person, to reconnect, to learn more about the profession of long-term care, to meet with peers, to find out about services and products and more. A special thank you to the team at Nebraska Healthcare Association for their support, advocacy and resources in long-term care.
Yesterday, we had the best Men's Group here at Westfield. We try to get together once a month to chat, share stories, talk about the weather, current events and whatever else comes up. The men often let me ramble on about whatever comes to my mind, and they are tolerant of that but I cannot tell you how much I learn about the wonderful men of Westfield. It is one of my true pleasures of being here is getting to learn about the residents and the things that are important in their lives. So many things to learn and to enjoy with them. I appreciate this opportunity.
These seems like a more personal update versus the normal COVID19 update this week. With that, I will add one more. Yesterday, I announced to the Board and to the Leadership Team that June 3 will be my last day at Westfield. I will have made it to my 2 year anniversary serving here and I have greatly appreciated the opportunity to serve with this team and for you. I have been given the opportunity to return to my hometown of Falls City, NE to serve as the Administrator for Falls City Care Center and this will allow me to be close to my three daughters, who live in Falls City. The Board is working on recruiting and hiring the new Administrator and the Leadership Team handle most things operating the facility so the transition will be very smooth. If you have any questions of me, please feel free to reach out.
Sincerely,
Chris Young
Administrator