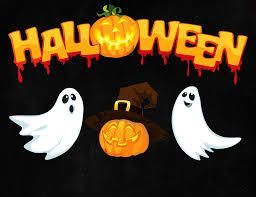 10-29-2021
You know, you would think that being in quarantine by hallway this week would have been enough to darken the moods of residents and staff at Westfield. Then you add that it rained for two days. Was that enough? NOT EVEN CLOSE! We just play harder and make the best of the situation and that is exactly what the residents and staff of Westfield did this week!
The week was full of Halloween games, costumes, decorations, treats, movies and games. Of course, each hallway had to have their own celebration and the staff had to move from hall to hall to make it all happen but it was a great success and it took everyone to make it happen. A special thank you to all of the staff who work around the clock to keep residents safe, well cared for and engaged in their day. COVID has not beat us yet and it is not going to. Also, we would like to thank the families. We realize how difficult these times can be on everyone and not being able to spend face-to-face time with your loved ones is terribly difficult. Your patience and understanding of the situation is so appreciated. Trust me when I tell you this, quarantine of any kind of a resident or of several is very difficult for the care givers that we have, too. But together we make it work and we are all in it together. WE ARE WESTFIELD!
This could be a repeat from a prior post, and if you have been browsing our new website, you have also seen this very prominently there, but what a good time to bring it up again…residents and staff of Westfield have been working on ideas for sprucing up our Mission Statement. We were looking at it to make sure that what we striving to achieve is consistent with the needs and desires of both residents and staff. And this is what we have recently adopted as the Mission of Westfield Quality Care.
          At Westfield, we are a family….
                        We focus our attention on providing all necessary tools and resources to the dedicated staff who serve at Westfield;
                                        Through that focus, those dedicated staff will deliver the most sincere and highest quality care for the elders in our family.
We will always strive to meet this mission. Will we be perfect? No. Will our efforts always be seen by others? No. But we will always look for ways to deliver on this promise and to improve as we move forward. Anyway, I just thought I would share this again. We appreciate all who are part of Westfield who are partnering with us to make this possible.
You saw the update on Tuesday related to COVID19, which really is the big topic that I have to report on COVID19 for this week. We continue to test all residents and staff twice a week and today everyone tested negative, which we are pleased about. There has been some questions such as "how could you let someone work with COVID19 which caused the quarantine?" Without going into more detail that would be helpful, I will simply say you can rest assured that we are following the guidelines set by CMS and DHHS related to COVID19 testing, the frequency, prevention measures, etc. Some of those employees who have tested positive in the past year have been full vaccinated while others were not. We are working on schedule the booster clinics for both residents and staff but for now, we are doing everything that we can. We stay in contact with ICAP through UNMC, who specialize in infection and epidemiology as well as weekly contact with the Central District Health Department. If the information that you receive from Westfield, myself or our team members, is not matching up with what you believe to be the accurate reporting, I would encourage you to next contact members of these agencies for further clarification. We are all in this together and will see this through with the resident's and staff safety and well-being as our priority. Well, I guess I did have something more to say about COVID19.
Anyway, more good news. After just a short conversation with our partners at Hamilton Communication, we have come to an agreement where ALL of our cable boxes or "set-top boxes" will be programmed to the "Essential" level. Until this week, in order for that additional block of channels, families would have to pay an additional fee or otherwise watch in the common areas of Westfield. We are so pleased to be able to add this feature to all rooms and televisions, particularly at a time when some residents may be in their rooms more. Thank you to Hamilton for helping us find a solution for this.
For the past several weeks, I have been giving you updates on the progress of our living room project. All I am going to say this week is that the rest of the furniture has arrived and while with just a few finishing touches, that project will be completed, I am not going to share pictures yet. Why? Because this space was designed for and partially selected residents. Until they get to see it and sit on the furniture, we are not making that public. Stay tuned for updates next week. It really looks great and residents are going to love it.
Wishing you all a great and safe Halloween Weekend!
Sincerely,
Chris Young
Administrator