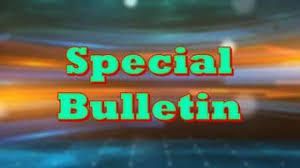 10-26-2021
SPECIAL BULLTIN….
Today, Tuesday, we had an employee test positive for COVID19. This employee was showing no signs of the virus and had recently tested negative. As a result, we are sending off a test for confirmation at the Nebraska Public Health Lab. In the meantime, we are going into a quarantine of each resident hallway. Residents will not be restricted to their individual rooms but to ensure that any exposure would not spread throughout the campus, we are closing each hallway.
We are also suspending all visits, outside consultants, vendors, etc. for a period of 14 days. We will plan to reopen on Tuesday November 9 for visits.
Staff are dedicated to each hall to continue given quality care to residents, meal service, activities, interaction, and overall friendship and a caring spirit.
We continue to battle COVID together and appreciate your help, support and understanding.
Stay tuned for more updates as they come available.
Best regards,
Chris Young
Administrator